PRODUCT INFORMATION
Specifications
Firmware
CUSTOMER REVIEWS
PRODUCT INFORMATION
F4 1S 12A AIO Flight Controller - A 1S 12A FC for building lightweight 3" toothpick drones like HX115 SE Toothpick Drone and HX115 LR Toothpick Drone. If you want to try a bigger FPV drone than 65mm/75mm on 1S power, and still want smooth and powerful flying actions, this FC that integrates 1S 12A ESC is definitely your best choice.
What is the update of the ELRS 2.4G V2.0 board?
Support both 1S and 2S battery now. Only 1S supported on V1.0.
Use SPI ExpressLRS 2.4 receiver with Betaflight firmware.
Modify the shape of the board to support 85mm whoop frame. Only toothpick frame supported on V1.0.
Use the lighter and smaller SH connector instead of USB Type-C.
Features
F4 1S 12A AIO Flight Controller is the best choice for building ultra-lightweight 3" toothpick drones like HX115 SE FPV Quad.
Most of the 1S flight controllers on the market come with 5A ESC by now, but this FC especially integrates 1S 12A ESC, it can provide more sufficient power for 3" toothpick drones.
Built-in current meter, 2 programmable RGB LEDs, and SPI Frsky receiver. At the same time, all the pads are left for the external receivers with UART1 and UART2, for buzzers, etc.
Whoop mounting hole pattern, be compatible with most 1S 3" frame. Large pads are reserved for solder motor cables, this design will make solder easier.
Note: The default flight controller firmware only supports ELRS V1.0. However, this flight controller can work with ELRS V2.0 by flashing the Betaflight V4.3.0 RC1-RC3 firmware. The target file name is BETAFPVF4SX1280.
Below is the diagram for ELRS 2.4G V2.0 board.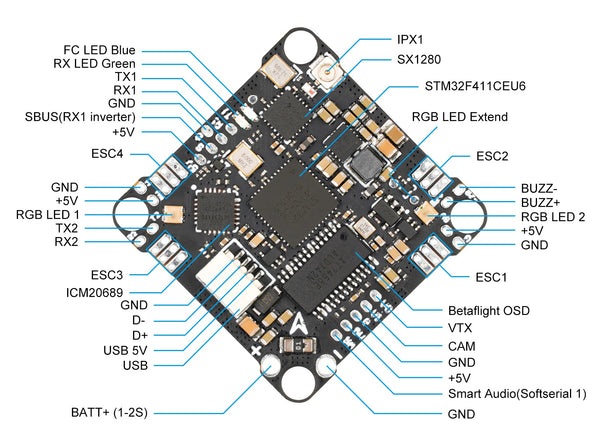 The current meter is integrated on the FC board. Here is the configuration in Betaflight Configurator.

Specifications
FC // F4 1S 12A AIO FC
CPU: STM32F411CEU6 (100MHZ)
Six-Axis: MPU6000 (SPI connection)
Firmware version: betaflight_4.2.0_STM32F411
OSD: Built-in BetaFlight OSD (STM32 controls OSD chip over SPI in DMA mode)
Receiver: Integrated SPI ELRS Receiver
Motor Pin Connecter: 1.25mm Header Pins
Mounting Hole Size: 26mm x 26mm (suitable for whoop pattern mounting hole)
USB Port: Type-C (V1.0 board), SH1.0 4-Pin (V2.0 board)
Weight: 4.74 g (without power cable and BT2.0 connector)
ESC // 1S 12A ESC
Built-in ESC with 12A continuous and peak 25A current
Input voltage: 1S Lipo (V1.0 board), 1S-2S (V2.0 board)
ESC firmware: Z_H_30_REV16_7.HEX
Signal support: D-shot150, D- shot300, D-shot600, Oneshot125, Multishot, PWM
This new BLHeli_S firmware (named Z_H_30_REV16_7.HEX) is supported by BLHeli Configurator, BLHeliSuite, and Bluejay Configurator for setup.
For download and flash, update to the newest BLHeliSuite-16714902a to support this ESC firmware online. For BLHeli Configurator or Bluejay Configurator, you need to load it local. The ESC firmware is available for download here.

Including
1 x F4 1S 12A AIO FC
4 x Anti-vibration rubber dampers
4 x M2 x 10mm screws
4 x M2 x 10mm screws
8 x M2 screw nut
1 x BETAFPV dipole T antenna (2.4G/46mm, only for ELRS RX version board)
8 x PH-1.25 connector for motor (not soldered, only for ELRS RX version board)
Firmware
Betaflight Firmware and CLI (SPI ELRS 2.4G)
This paragraph is only for ELRS 2.4G V2.0 board, with SPI ELRS 2.4G receiver integrated.
Since Betaflight has not yet released the official firmware that could supports the SPI ExpressLRS protocol, the current version is the Beta version. Please use the firmware and the CLI dump file below to recovery the FC board if needed. Betaflight will update to their official target soon. Please feel free to contact with us if you have any issues with this Beta version Firmware.
It is normal that there is no any option on Betaflight Configurator Receiver. As show below, the checkbox is blank.

Please change the "PID loop frequency" to "4KHZ" , sometimes it would make the SPI receiver not working correct while the value is "8KHZ".

New released firmware BTFL_4.3.0_BETAFPVF4SX1280_0265565fa uses external GPIO interrupt triggers to process ELRS data reception, increasing the stability of the signal link. Now it can perfectly support LiteRadio 2 SE 500Hz link and modify the accuracy of signal strength.
The new CLI file is named BTFL_cli_F4 12A ELRS_V2.0_NEW. Please check.
Note: The new firmware supports only ELRS 1.0.0, 1.0.1, 1.1.0, 1.2.0, 1.2.1.
Download the firmware and CLI dump file for the F4 1S 12A FC (ELRS 2.4G) board.
How to Bind with Betaflight FC with SPI ExpressLRS Receiver.
More details and discussion on Github about SPI ELRS receiver.